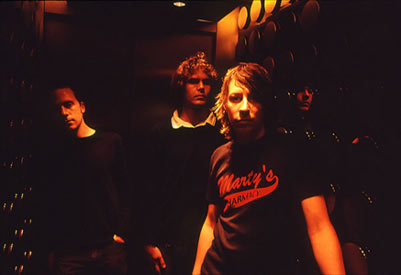 The Thom Yorke solo album ("it's not a solo album") has leaked online, and it's a cracker, but there's something else I want to draw your attention to. An album I knew after one listen was going to be in my top 5 of the year, alongside TV On the Radio and Archie Bronson Outfit. I'm talking about A Call and Response, by Manchester's The Longcut. An album that manages to evoke the spirit of Manchester's past, with influences ranging from Joy Division to the Happy Mondays to the Fall, while taking off in a totally different direction to the likes of Kasabian, Interpol or Editors.
You can sign up for signed copies on
their website
(well you can once they fix the link!), which sounds like the deal of the year to me. You can also download various live and demo tracks there, as well as a track off the album, just click on the Download link on the
home page
(I can't link directly to the downloads, unfortunately). Well worth a visit!
There's also a 40-minute gig available in streaming video on the
XFM website
.
Have a listen and let me know what you think - leave a comment below.